How to find us
Ballyheigue is located in North of County Kerry, on the Southwest coast of Ireland.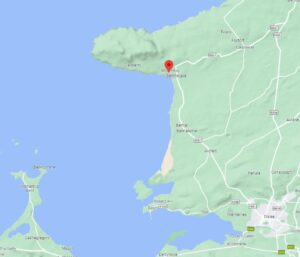 Ballyheigue beach is the start of a 7 mile stretch of white sand running all the way past the Black Rock and Banna to the mouth of Barrow Harbour. It is ideal for walking and swimming and a childrens playground is situated beside the beach car park. The beach itself is particularly safe for swimmers with a very gradual slope and is also manned by lifeguards during the summer months. Beach Fishing is also popular (Bass, Plaice etc.) and at low tide you will often see fishermen digging for bait (lug worms). The Black Rock marks the end of Ballyheigue beach about 2 miles to the South and is also a good fishing spot. Surfing is also popular although the bigger swells tend to arrive at Sandy Lane (located about a mile past the Black Rock).
"Miles of breathtaking white sands and clear clean Atlantic waters make this blue flag beach a spot to remember"
Ballyheigue is a bustling community and the main town hosts a number of supermarket type shops, a butchers, a hardware shop and a post office. There are also a few hairdressing salons, a bookmakers, a pharmacy and a doctors practice. Ballyheigue is also home to 5 pubs each offering differing style of entertainment and hospitality. There are a couple of full service restaurants as well as a number take away food premises in the town. Please check out the Events page and Community pages for a list of some the activities that take place throughout the year.
Ballyheigue is about 11 miles North of the town of Tralee and an easy driving distance from Dingle, Killarney and the Ring of Kerry. You can get to Tralee by Train or Bus from most towns in Ireland and Kerry Airport is about a half an hours drive away. The international airports of Cork and Shannon are less than 2 hours by car.